Frequently asked questions
Is delivery free?
---
Yes we offer FREE delivery through Amazon and next day delivery for Amazon PRIME members.
---
Can I return my order?
---
Yes , we now sell all our toys through Amazon this can be done through them.
---
Where do you deliver?
---
Currently only to UK destinations.
---
How do the magnetic blocks stick together?
---
The Square and Triangle blocks connect simply by using the power of the built-in small magnets, which are locked inside of the specially toughened ABS plastic and rotate in any direction.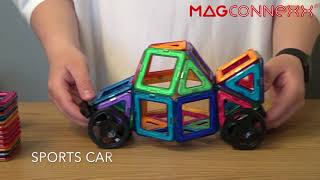 ---
Have the toys been tested?
---
As a family ran business safety is first and foremost. All our magnetic blocks are tested to the highest global safety standards ASTM and EN71 and carry the CE mark. For more about our brand click here.
---
---